MEET OUR A+ BBB RATED TEAM
YOUR MORRIS HEATING & AIR CONDITIONING TEAM
BRIAN SCHMITT
OWNER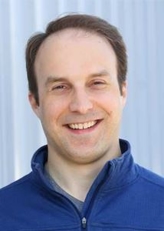 My career background has spanned across investing, technology, and construction. Over the last 20 years, I've made so many great North Shore memories including my wedding in Manchester and half marathons in every town along the coast. When not working you can usually find my wife and I chasing behind our three girls on a sports field or ski slope somewhere – they are 2, 4 and 6 and don't consider it fall in New England until a trip to Russell Orchards for apples, pumpkins and, mostly, cider donuts!
RUSS HANCOCK
OWNER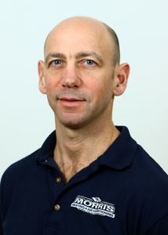 We have an excellent team and great customers here at Morris, and that makes it fun to come to work every day. When I'm not working I enjoy spending time with my family – in the winter we ski as much as we can, and in the summer you can find us in, on, or around the beautiful waters of the North Shore. I have two young boys, ages 3 and 7, who are learning the three keys to a happy life: take pride in your work, take care of your family, and remember to get annual maintenance on your heating and AC equipment!
ANDY PREVITE
COMFORT ADVISOR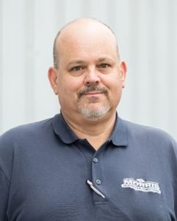 Morris has a great team who really does strive to be the best HVAC company on the N. Shore. When I'm not working I enjoy spending time with my wife and sons hiking, boating, fishing, kayaking and skiing. The new addition to my family is our new puppy Moose, a Golden Retriever who's a lot of fun but keeps my wife and I up all night. Right now I'm busy with home improvement projects. Like everyone else, there is always something to do around my house! Of course I need to fit this in between shuttling my son to lacrosse games. It's a crazy life but I wouldn't have it any other way.
CHRIS ZAREMBA
COMFORT ADVISOR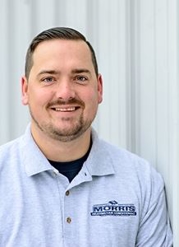 I love this work because I really am one of those people who loves home improvement and nothing can change your home like the right HVAC system. If you're too hot or too cold in your own home, it really doesn't matter how pretty it is. I really like solving those problems for my customer
HEATHER GALLANT
CUSTOMER SERVICE REPRESENTATIVE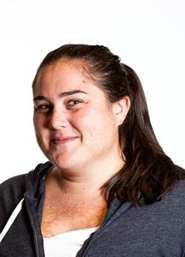 This is a crazy, fast paced business but we have fun and work hard. I talk to most of our customers and I really love being able to solve the urgent issues that come up every day. When I'm not attached to the phone, I love being out on my boat. I've learned a lot about HVAC over the past few years and in my past life I was a nanny, so I guess you could say I'm pretty good at taking care of people!
DAVE POMROY
WAREHOUSE MANAGER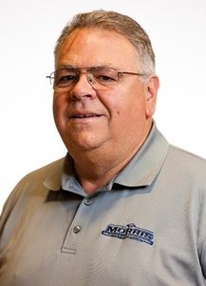 When I'm not working I really enjoy my morning coffee on my deck, then I head out to take my 7 grand children to their dance classes, soccer, you name it. They're fun to watch. I also enjoy ten pin bowling, fantasy football and all of the New England sports teams — win or lose!
BLEDAR PILLA
PROJECT MANAGER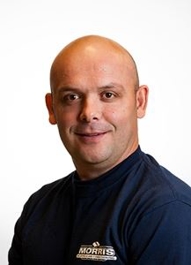 I came to this country from Albania in 2003 and became a US citizen in 2008. To me this company is like a family. During the summer (besides working!) I spend time with my wife and two sons, going to the beach. The best part of my job is when I can tell that people really appreciate my hard work.
CAITLIN ARMSTRONG
CUSTOMER SERVICE REPRESENTATIVE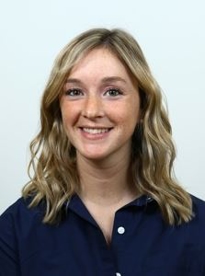 I genuinely enjoy helping people out, no matter what it is. At the end of the day if I can help relieve someone of a problem, I'm happy!
When I'm not working I love taking weekend trips to the White Mountains. I also love finding new places to hike around New Hampshire.
YOUR 24/7 SERVICE & INSTALLATION TEAM
GREG FURRIER
SERVICE MANAGER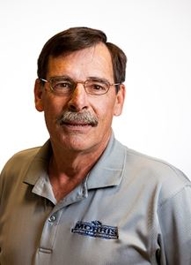 On my day off, I love to golf. T time is 6:00 am every Sunday. I meet my brother and 12 other guys and have been known to golf well into December. Coldest day on the course was 17 degrees. Married with 3 kids, 5 grandchildren and lots of animals! Volunteer, Melrose Humane Society.
JULIN META
SERVICE TECHNICIAN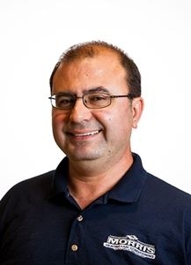 My family and I came to the USA from Albania in 2001 and I became a citizen in 2007. I really enjoy working with customers and solving their problems. Troubleshooting is my area of expertise. My wife and I have two children and in my free time I enjoy following the stock market.
CHRISTOS NIKOLOUZOS
SERVICE TECHNICIAN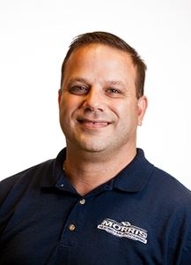 Morris Heating & AIr Conditioning is really like a family business. When I'm not working I am busy with my family. I am married with two daughters and a Shih tzu named Lola. I'm a fan of the Pats, the Sox, the Bruins and the Celtics.
MIKE BURNS
SERVICE TECHNICIAN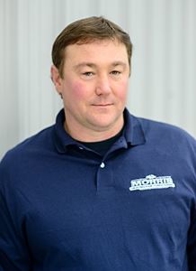 I started in this business 22 years ago and I've been involved in some great projects. My associate and I actually installed the first ever water source heat pump in MA which included both solar and radiant heat. When I'm not working I enjoy spending time with my family, fishing and hunting.
STEVE ZIELINSKI
SERVICE TECHNICIAN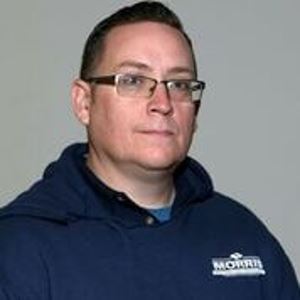 I have been involved in many areas of the HVAC field. From install and sales to my current role in service, which is what I enjoy the most. The best part of my job is meeting great people and helping to solve their heating or cooling issues – any time, day or night. In my free time what I look forward to more than anything is spending time with my family.
PETER RANDAZZO
SERVICE TECHNICIAN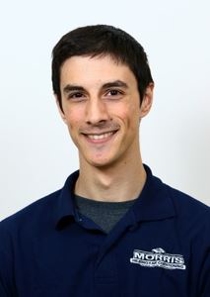 I actually started my career as a chef. I was running my own kitchen at 18 years old, but after awhile, looking for a change, I decided to explore HVAC. This is a great business. I love trouble-shooting problems for customers. Sometimes you have to be a detective to solve problems. I'm also a newlywed –I just got married in September (on Labor Day) and yes , I do about 85% of the cooking at home!
ALEX HERRMANN
INSTALLER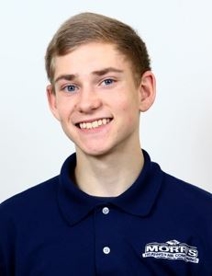 I chose HVAC because at the end of the day I wanted to be part of something where the design and quality of your work was important. In this industry and this company, quality is critical. I'm happy to be part of that.
MATT FURRIER
LEAD INSTALLER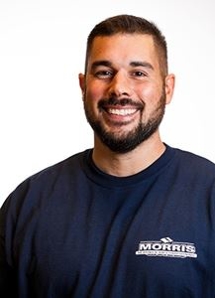 I've been in this industry for 14+ yrs. now. Best part of the job — figuring things out. There's always a challenge and I love that. Worst part: spiders. Hate them! I'm a runner, I like CrossFit, spinning, mountain biking, competitive Jujitsu, MMA boxing and just about anything active.
MANNY MENA
LEAD INSTALLER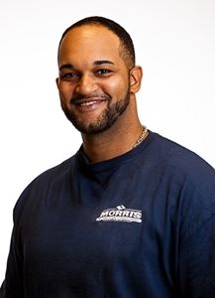 I actually began my career working in an office. Preferring to work with my hands, I switched to HVAC and it's now been over 10 years since I first started in this industry. I love getting to know my customers (and their animals!) Biggest challenge: Fitting my 6′ 6″ body into 3′ crawl spaces!
SEAN DOWIE
LEAD INSTALLER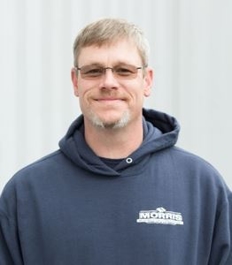 JOEL BRADY
LEAD INSTALLER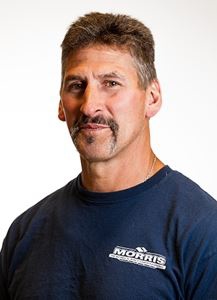 I started out as a carpenter but left that industry because I prefer more reliable work. So here I am 24 years later! When I'm not working I enjoy playing pool, fishing and spending time with my family. I have been married for 31 years and have 3 children and 4 grandchildren.
KEVIN DUNN
LEAD INSTALLER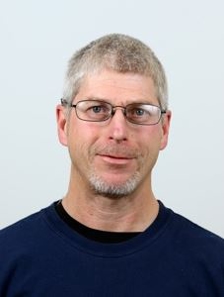 I've been in the sheet metal business for 30+ years, spending the last 7 in HVAC. It was actually my grandfather who got me started in this business, so I guess you could say it's in my genes! I'm married with two great kids and 3 cats.
BOBBY MUSE
INSTALLER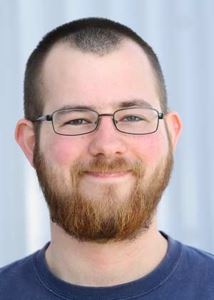 I really enjoy working at Morris Heating & Air Conditioning because the environment at Morris is one that is friendly and welcoming to customers AND employees. Not every company is like that and I'm happy to be part of their team.
CODY PERRY
INSTALLER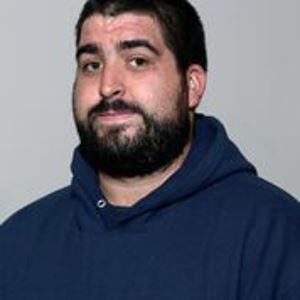 LEO SOUZA
INSTALLATION APPRENTICE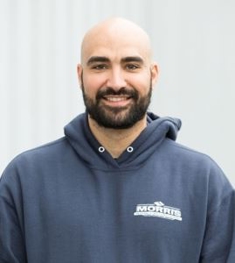 After 20 years working in the restaurant industry I decided it was time for a change, and moving to the HVAC has been a significant but fulfilling transition. I truly enjoy the hands on approach and the feeling of working on something that brings comfort to others in all seasons. Most importantly, I now get to enjoy more time at home with my family.
DAVID OLEY
FABRICATOR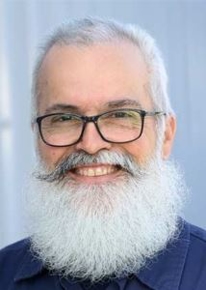 I have over 33 years' experience in this industry so it's pretty rare that I come across something I haven't seen before. I appreciate the fact that unlike many careers this one has proven to be consistent and reliable. In my free time I enjoy camping – especially in White Mountains during the winter. I also kayak throughout the year and just received my first paragliding license.
MARIO POLANCO
INSTALLER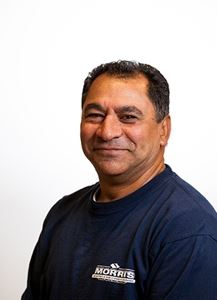 I'm originally from the Dominican Republic but I've been in the US for 20 years already. My trick for staying warm in the winter…keep moving! Every day at Morris brings something new and challenging. This is definitely not a boring job. When I'm not working I enjoy spending time with my family.
Leroy Hoskins
Plumbing Division Manager
I have been working in the plumbing industry for the last 20 years. Lucky enough to have been trained by my dad, I guess you can say plumbing runs in my blood. I have worked in industrial, commercial and residential fields and I love them all! I take great pride in my work and welcome any plumbing challenge that comes my way. When I'm not working, I spend most of my time coaching my three sons' youth hockey and lacrosse teams. If you can't find me on the field or in the rink, my wife usually has me hard at work at home (current project: installing a pot filler), but where I'd really enjoy being is on the ocean fishing!